---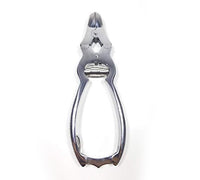 Designed for thick hard nails: The sharp blade jaw can open up to 1 inch to trim extremely thick nails. The angle of the blade penetrates deeply and easily when cutting ingrown toe nails. It's the perfect toenail clipper for seniors and for conditions like fungus, paronychia and diabetes. It assists successfully in ingrown toenail treatment.
Ergonomic grip: The large long handle can be comfortably gripped, making the toe nail clipper easy to control. The barrel spring makes it easy to use and requires less effort to cut. The safety locking mechanism prevents accidental cuts.
Precision trimming: The precisely aligned blades are slightly curved to contour nails. The sharp cutting edges give a precise and clean cut without pulling or tearing the nails. Wipe with alcohol after each use.
Versatile: The nipper can be used as cuticle remover and cuticle nipper. It can be used in conjunction with toenail fungus treatment as needed. Precision-made blades will allow quick trimming for fingernails, toenails and cuticles.
Professional nail clippers for women and men ingrown toenails. A large nail clipper designed for cutting thick and hard toenails and fingernails. Ingrown toenail clipper effectively cuts away painful ingrown toe nails and hangnail. These tools are easy to clean! simply wipe with alcohol after each use.