---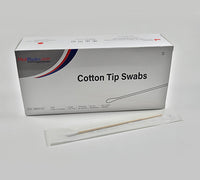 6" APPLICATORS: Medical applicators allow for convenient, accurate application in the surgical, dental, and clinical setting. Length of each swabstick: 6 inch. Come in bags for convenient use.
APPLICATION OF OINTMENTS & WOUND CARE: Cotton swabs are sterile, latex-free and ideal for applying ointments and salves to wounds and hard-to-reach spots. Designed for medical uses and patient comfort. Wood shaft swabs offer an ease of use when you need general wound care.
CONVENIENT IN USAGE: Assist medical staff in administering general wound care. No need for reusable applicators. Hypoallergenic and extra soft to be gentle even on the most sensitive areas of skin. Firm grip for general cleaning, prepping and mixing.
LOW COST & ECONOMICAL: These sterile swabs offer an outstanding low cost solution preparation and application for different medical procedures. High quality wood shaft. Intended to provide comfort and reliability during product use.